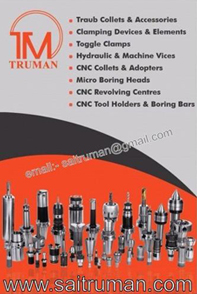 About us
We started our business in 1999 with a passion for excellence and soon reached the pinnacle of success by virtue of diligence, brilliant technical expertise, and client centric approaches. We are operational at Pune, Maharashtra, India. Our immaculate range of products include Carbide cutting tools, Clamping kit, CNC live centre, CNC tool trolley, cutting tool holders, Hydraulic vice, Lock down vice, Machine tool holders, Toggle clamps and Vibration pads which are made of top quality raw materials available in the market. We have already appointed a team of adroit professionals and quality managers to supervise each and every working strategies right from the starting to the end. Our products have gained accolades from our clients' situated across the country.
We are led by the guiding principles of our CEO and Owner Mr. Charanjeet Singh Chaggar who has achieved excellence in this domain. Backed by his constant support and motivation, we have already achieved huge success by virtue of customer centric approach, hard work and excellent technical expertise. Driven by a strong desire to succeed, we started our business in 1999 and today, we are counted amongst one of the leading companies in India.
Why us?
We stand as one of the leading service providers to purchase sophisticated industrial equipments across India. This has been possible due to our ability to deliver our clients exactly what they need which further sheds light on our experience and clearly shows that we have a strong desire to offer quality products in India.
Reasons behind our success are mentioned below:
Experienced Professional
Prompt delivery our products
Highest level of quality standards
Reasonable pricing policy
Easy payment mode
Our Team
Our prominent and reputed organization is a result of our strong team of effervescent workforce. Our team comprises of engineers, technicians and quality controllers who are well versed in their respective field and strive to meet the expectations of our clients' in every possible way. Our domain requires immense research regarding material used for production and techniques of production. Keeping this at the forefront, our team of research personnel is constantly involved in introducing new techniques for improving the design and functionality of our machines.
Our Product Ranges
We offering wide range of Carbide cutting tools, Clamping kit, CNC live centre, CNC tool trolley, cutting tool holders, Hydraulic vice, Lock down vice, Machine tool holders, Toggle clamps and Vibration pads. These are widely appreciated for its simple operation, precision pressing, robust construction, durability, low maintenance and easy installation.
Quality Assurance
For meeting the vast needs of our clients', we have kept quality as the prime focus for all our operational activities which has immensely helped us in manufacturing quality products. We have appointed a team of quality controllers, who rigorously test the entire range, right from procurement of raw material to the final delivery. We test our range of products on the following parameters:
Durability
Design
Efficiency
Performance
Client Satisfaction
Since the day of our inception we have been providing high performance products to our clients, as per their specifications. We have garnered a satisfied client base across the country owing to our excellent range of machines available at competitive prices. Our committed efforts towards serving our valued clients combined with our passion for perfection have made us qualify and established position in this field. At the same we have also earned the faith and appreciation of our clients.